Orders: June
As busy as April and May were, June turned out to be a surprisingly light month. I had much-needed weekends free and wasn't working 70-hour work weeks as I was the previous month (dreams don't work unless you do, right?).
June was a nice mix of graduation orders, bridal showers, and all-around celebratory orders. In the midst of it all, I even made Nutter Butter cookie truffles to celebrate my husband's 29th birthday, I just forgot to get a picture. Whoops!
Bachelorette Party Cake Balls
One of my high school friends contacted me to make these sweet cake pops for her friend's bachelorette party. The vanilla cake pops were dipped in light green and were topped with white sprinkles. The strawberry cake pops were dipped in dark blue and drizzled with light green.
Wedding Cake Balls and Oreo Truffles
I had a small order for cake balls and cookie truffles for a Cincinnati wedding last month. The yellow cake balls were dipped in white with a plum drizzle while the Oreo cookie truffles were dipped in white with crushed mini Oreos.
Engage City Church Volz Event Cake Balls
I made these colorful cake balls for a '90s event that Dayton-based Engage City Church threw for their volunteers (including me!). The chocolate, strawberry, and vanilla cake balls were dipped in white with pink, purple, and teal drizzles that matched the windbreaker I wore :)
Engagement Party Cake Balls
This order was a fun one to create! The bride-to-be saw a similar design with cupcakes, so her mom asked if I'd be able to create a ring from cake balls. The ring was made up of lemon, yellow, chocolate, and red velvet cake balls with gold dip or white dip. The cake balls were topped with either gold or white sugar sprinkles or yellow drizzle and blue letters.
Birthday Party Cake Pops and Cake Balls
These bright cake pops and cake balls went out to a bright color-lover on her birthday. The cake pops were chocolate and vanilla cake dipped in blue and green with alternating drizzle. The chocolate cake balls were dipped in gold and pink with flowers on top.
Graduation Cake Balls
These red velvet cake balls went out to a graduation celebration for a new graduate of Little Miami High School. The cake balls were dipped in white with yellow and green drizzle and candy diplomas on the top.
White Bridal Shower Cake Pops
These white cake pops went to a bridal shower. The chocolate and vanilla cake pops were dipped in white and decorated with a variety of white toppings: drizzle, flowers, sprinkles, white sugar sprinkles.
I loved making this order because there's something so elegant about all white cake pops.
Father's Day Cake Balls
I surprised my dad with gluten-free chocolate cake balls for Father's Day! To top it off, I created a Bengal's themed batch since my dad is the Cincinnati Bengal's #1 fan. He loved them!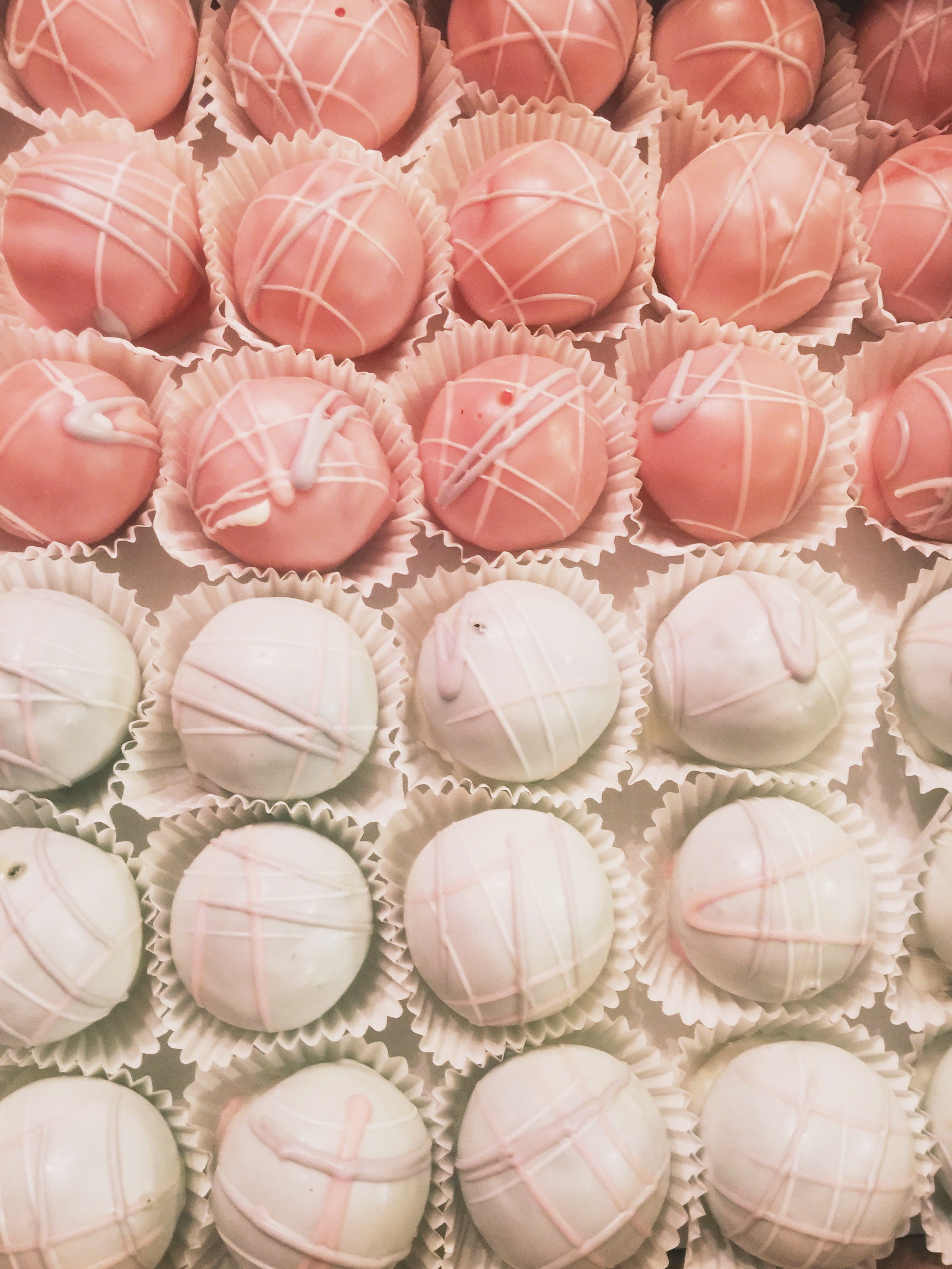 Pink Baby Shower Cake Balls
How precious are these cake balls? The strawberry and chocolate cake balls were dipped in white and pink with white, pink and grey drizzle for a baby shower for a baby shower. The mom-to-be loved them!
Girl Scout Cookie Truffles
Believe it or not, I had one more order of Girl Scout Cookie Truffles this month. Thank goodness those cookies last for a while! The Tagalongs (Peanut Butter Patties) were dipped in chocolate with chocolate and white drizzle. The Samoas (Caramel deLites) were dipped in white with white and chocolate drizzle. I'm excited to offer these again next year!
Red Velvet Cake Balls
My month ended with a simple order of red velvet cake balls with a chocolate dip and drizzle. These cake balls went to my cousin who sent me a picture of her teenage son getting into them, too. Everyone enjoys cake balls!
I'm currently rounding up recipes since I want to branch out into posting recipes for y'all to make at home! If you have anything you'd like me to try (or if you'd like to order), please send the idea or recipe to littlepinkbakeryohio@gmail.com or comment below and you might just see the recipe on this site soon!
If you haven't already, hop over here to read my first Behind the Bakery post and stay tuned for my next one coming next month!
Also, there will be no July orders blog post as I'll be on vacation for a while this month, so I'll put the orders in to August's blog post.
If you'd like to see more pictures of my orders, visit the Facebook page (and give it a "Like" while you're there) or follow the bakery on Instagram.